Technology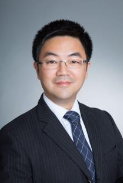 Leping Huang joined Huatai Securities research in 2021 as the Head of TMT Research, and he and his team cover A, H, and N-listed China technology companies in the semiconductor, smart phone, LCD panel, AutoTech , and FinTech value chains. Key areas of research focus also include AI, cloud computing, autonomous driving, and quantum computing.
Prior to joining Huatai, Leping was the head of semiconductor and hardware research at CICC from 2017. Prior to that, Leping was head of China technology and telecom research for Nomura between 2010 and 2017, and was a technology analyst there from 2008 to 2010. Before that, Leping worked as a telecom standardization specialist for Nokia from 2001 to 2007.
Leping has Master's and PhD degrees in Information & Communications Engineering from The University of Tokyo, and a Bachelor's degree in Electronic Engineering from Shanghai Jiaotong University.