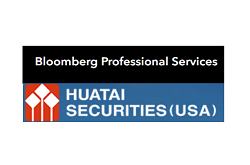 Bloomberg-Huatai China Webinar
Bloomberg Link to Register – Click Here – For Institutional Investors Only
Thursday, April 21, 2022 10:00 am EDT | 7:00 am PDT | 10:00 pm HKT | 3:00 pm BST
Huatai Securities is one of China's largest fully integrated investment banks and covers nearly 900 stocks across Mainland A, Hong Kong H, and China ADRs.
Join us for a discussion with two of Huatai Research's lead analysts to discuss:
Chief Economist Eva Yi – China Monetary Watch and Covid Impact – China's economy is facing major financial & production stresses, posing a long-term challenge to global growth and to China's goals of achieving developed economy status.
Head of TMT Research, Dr. Leping Huang – China's growing semiconductor industry already boasts 140 publicly-traded stocks with a market cap of over US$425 billion. We will discuss the sector's strategic areas of expansion, the latest government policies designed to advance China's semiconductor industry, and the outlook for global fab capacity as the world enters a challenging interest rate hike cycle.
Speakers
Eva Huan Yi
CHIEF ECONOMIST, HUATAI FINANCIAL
Eva Yi joined Huatai Securities as Chief Economist in September 2020. Ms. Yi previously worked at CICC as their Chief China Economic Analyst and Managing Director from March 2015 to September 2020. Prior to joining CICC, Ms. Yi worked on both the buy side and the sell side. From 2004 to 2009, Ms. Yi worked at Goldman Sachs (Asia) in Hong Kong, as an economist covering the greater China and Asia ex-Japan region. From 2009 to 2013, Ms. Yi served as the Chief Economist and Strategist at Keywise Capital Management in Hong Kong. Ms. Yi launched Calabas Capital ltd. in 2013 and served as a portfolio manager in 2013 to 2015. Ms. Yi has been one of the top-ranked China Economists at the Institutional Investor China Poll for the past 5 consecutive years. Ms. Yi graduated from Mount Holyoke College (Massachusetts, USA), and majored in both Economics and Studio Arts.
Leping Huang
HEAD OF TMT RESEARCH AND CHIEF TECHNOLOGY ANALYST, HUATAI FINANCIAL
Dr. Huang joined Huatai as Chief Technology Analyst, head of TMT research in April 2021. Leping and team covers a broad area of A/H/US listed China technology names, including semiconductor, smartphone value chain, telecom and cloud computing. In addition, Leping and team are actively exploring emerging technology trends including AI, blockchain, AutoTech, SpaceTech etc… Prior to his current role, Leping worked as Managing Director, Chief Technology Analyst for CICC between 2017 and 2021, Head of China technology and telecom research for Nomura in Tokyo and Hong Kong between 2008 and 2017, and Telecom Standardization Specialist for Nokia from 2001 to 2007. Leping received his Ph.D. degree in electrical engineering from the University of Tokyo and holds ten wireless communication related patents. Leping was ranked as No.1 China Technology Analyst eight times consecutively since 2013 in Institutional Investor's All-China Research Team survey. Leping is fluent in Mandarin, English and Japanese.
Masahiro Wakasugi
SENIOR INDUSTRY ANALYST, JAPAN TECHNOLOGY. BLOOMBERG
Huatai Securities, established in 1991, is publicly traded in Shanghai, Hong Kong, and London with a market cap of approximately US$20 billion. Huatai Research's 130 analysts provide detailed coverage of China and global macro plus nearly 900 equity securities. The company is China's largest retail and electronic retail broker, and has offices in Hong Kong, New York, and throughout China
---